SCREENWRITER'S COMPASS
CHARACTER AS TRUE NORTH
Culled from his 20 years of experience, Screenwriter's Compass is Guy Gallo's must-have manual on the craft of screenwriting. He expertly teaches his reader how to think about the screenwriting process, discover the unique geography of his or her own imagination and navigate the inevitable challenges to articulate vision, agenda and story. Through practical tools and well-earned wisdom, Gallo guides the writer through a process of building story out of character motivation and voice, creating a compelling narrative that will seduce any audience.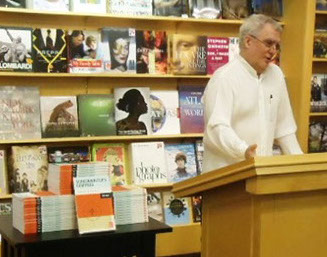 GUY GALLO ON SCREENWRITING
"It is the way we approach the actors of the drama, their choices and decisions, their peculiar and idiosyncratic habits and desires, that provide the guidelines, the barometer, that
will help the writer choose and motivate event, that will
carve from the unwieldy fable a tell-able construct." -- excerpt from
Screenwriter's Compass
ISBN-13: 978-0240818078
FOCAL PRESS
Also available on:
"Guy Gallo celebrates the adventure of writing a screenplay. He encourages writers to end up with 'a surprise that wasn't what you sat down to write.' It's simply the best book about writing for the screen I've read."
-- Terry Jones, screenwriter, Monty Python and the Holy Grail; Life of Brian; & Labyrinth
"More than just the compass...this is the whole ship. Designed to safely navigate a screenwriter's journey to safe harbor, it's a virtual mega-yacht of a book: swift, secure, beautifully detailed...and above all, fun. Guy Gallo is one of the very few practitioners of the art who can show you how to chart your own course...and survive."
--Tony Bill, producer The Sting (1973)
"I now have a screenwriting bible. As a working screenwriter, Gallo's words serve as a fantastic check-list for producing quality work. As a teacher of filmmaking, Gallo has provided my students and me with an incredibly useful and lucid set of tools. Gallo is a generous man for sharing his screenwriting genius."
-- Emily Abt, Princeton University
"...Gallo offers readers clear, concise tips on and examples of screenwriting techniques, liberally sprinkled with his personal experiences as a screenwriter. Accessible and engaging, Gallo's book makes an excellent resource and guide for both novices and professionals looking to add another tool to their screenwriting toolbox. Summing Up: Recommended."
-- A. F. Winstead, Our Lady of the Lake University,
COPYRIGHT 2015 - ALL RIGHTS RESERVED BY ESTATE OF GUY GALLO